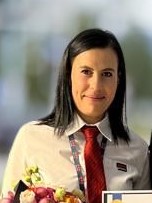 Interview - Employee of the Year for 2022
Name: Ștefănache Ramona Gabriela
Years with Securitas: Security Agent: 2021-Present
What inspired you to become a security officer and how did you start working in security?
Since childhood, I have had an inclination towards uniforms, towards that aura of dignity exuded by individuals who wear uniforms. One day, while searching for a job, I came across a job posting by Securitas Romania. I applied, and after the interview, I was hired.
What does a typical workday as a security agent look like and what are the main responsibilities in this role?
Although I don't have a long-standing career in this field, since becoming a Security Agent at the company, I have been involved in various assignments at different locations. These assignments have encompassed distinct responsibilities for each type. Among my main duties are ensuring physical security and the safety of individuals and property, preventing theft in retail settings, and providing protection for employees and clients.
A typical workday starts with my physical and mental preparation for a new day, getting my uniform ready, reviewing procedures and service routines, daily tasks, as well as any new tasks that may arise (for specific situations). I report to work and strive to fulfill my duties with utmost seriousness, so that by the end of the day, I can say, "mission accomplished."
What are the key qualities for success as a security officer and how do you develop and enhance these traits?
Even though I have learned these qualities over time, I can confidently state that being a proficient security officer requires more than just being "good" professionally. Personally, I believe that a security officer must have presence, courage, and authority. They should be devoted to their work, placing great emphasis on respect for the uniform, company values, and civic norms. An agent needs to be flexible and quickly adapt to complex situations. Effective communication and the ability to inspire trust are essential in ensuring protection and deterring illegal activities. Through their presence, they must demonstrate to those "interested" that there is someone capable of providing security. They must be motivated and, last but not least, set an example. This requires a sense of vocation and dedication.
These qualities need to be strengthened and honed. Beyond the motivation derived from job satisfaction or financial incentives, there must be a willingness to self-improve, to compete with oneself to be better today than yesterday and even better tomorrow. It is crucial to be where those who have placed their trust in you expect you to be, to take pride in doing what is necessary, to have the courage to take responsibility for mistakes and be willing to rectify them proactively.
Finally, what advice would you give to someone who is interested in pursuing a career in the security field?
I am honored to be part of the Securitas team. While I may not consider myself among the best, I assure you that I strive to progress and achieve the desired level of performance. I am aware that this journey is filled with challenges, requiring sacrifice and courage. I strongly believe in the Japanese proverb that "courage means doing what is right even when you are afraid."
What advice would I give to someone who wants to pursue a career in the security field? I would advise them to honestly answer two questions:
1. Do you want to become a security agent?
2. Do you have the courage to challenge yourself to be the best?
Even though it may initially be challenging to answer these questions sincerely, the desire to succeed can provide a powerful motivation. With patience and responsibility, over time, the answers will emerge, along with the job satisfaction and the faith that you have made the best choice.